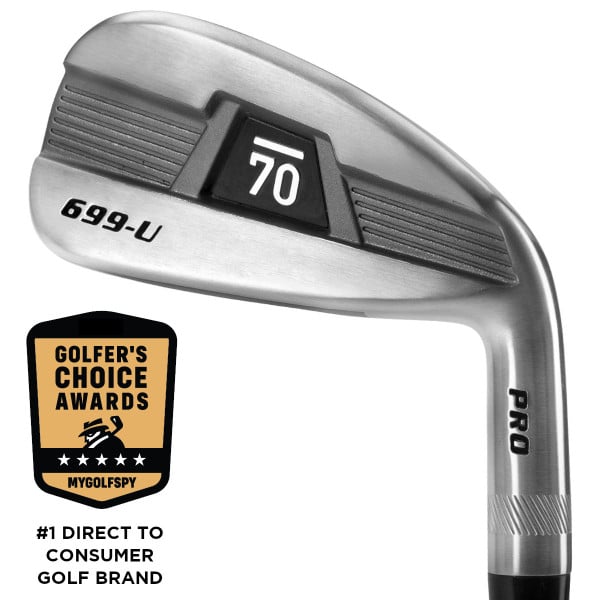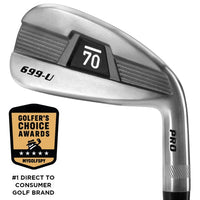 Sub 70 699 Pro V2 Utility Satin (Right Hand)
Rs. 16,990.00
Sale

• Save
The new 699U Pro Utilities retain the original 699 Pro's successful 2-piece, TPE resin injected, hollow body design in 431 stainless steel. However, the newly designed 699U Pro Utility now has a reactive 1.7 millimeter thin VFT face composed of S-450 aerospace steel, which not only results in improved distance, but also more consistent distances across the entire face. This means that even when struck imperfectly, on the toe or heel of the club, distance loss is minimized, resulting in more greens hit. Additionally, the Pro versions have less offset and a slightly reduced profile as compared to the standard 699 v2.
The lofts on the 699U Pro Utilities follow with the rest of the irons, allowing a player so inclined to build a combo set of 699 series irons and utilities that can cover all distances without the creation of any unsightly yardage gaps. Additionally, to enhance the accuracy of the 699U Pro two iron by reducing gear effect on off-center strikes, a slight and barely visible bulge and roll was added to the face, effectively making the 699U Pro two iron a point and shoot rocket launcher
SATIN - Satin finishes are the most popular finish in golf, allowing the beauty of the club to stand on its own. Elegant and timeless, satin finishes maintain themselves effortlessly, and will show beautiful face wear when kept for years.
Delivery: 4 weeks


Specifications
Head Number
2
3
4
5
Loft
15
17
20
23
Lie
59.5
60
60.5
61
Bounce
4
4
4.5
4.5
Offset(mm)
5.72
5.08
4.45
3.81
Weight
233
240
247
254
Standard Length Steel
39.5
39
38.5
38
Standard Length Graphite
40
39.5
39
38.5
Body Material
431 Stainless Steel
Face Material
S450 Steel
Face Thickness
1.7 mm