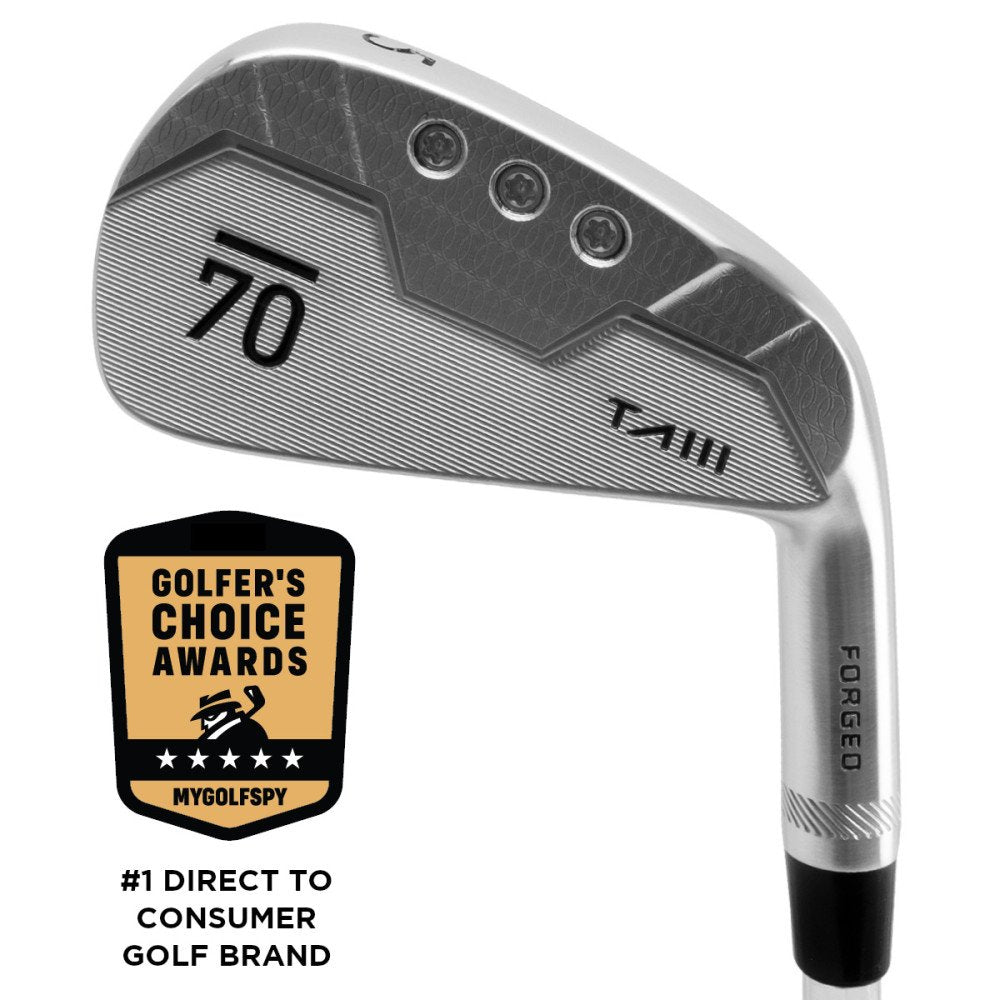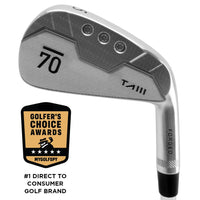 Sub 70 TAIII Forged Satin Irons (Right Hand)
Rs. 112,990.00
Sale

• Save
The Sub 70 TAIII iron is the product of two full years of collaboration between the team at Sub 70 and the paradigm of championship golf urbanity. Sub 70 is proud to offer what it believes to be a truly exceptional collection of irons, with a truly exceptional champion: Tommy Armour III.
When viewed as a whole, the TAIII satin irons are a unicorn of construction, wherein each iron was built individually to obtain a specific flight characteristic and playability attribute without changing the look of the irons as they progress from 3 Iron to Pitching Wedge. At address, each iron presents itself as a player's club, with a thin top line, minimal progressive offset, and a blade type silhouette. However, on further examination, a more complicated truth begins to emerge.
Each of the long irons have additional weight in the low-center portion of the head to promote a higher ball flight with a softer release upon landing. Three tungsten weights create a lower center of gravity and promote an advantageous flight and maximum energy transfer. This means the ball will fly higher, go further, and land softer, resulting in more greens held from longer distances, all while maintaining precision, feel, and accuracy.
The mid-irons progressively move the player towards a more flighted, piercing ball flight, with the redistribution of mass upward from the low-center of the head to a more traditional position, meant to provide a consistently mid trajectory flight. Each mid and scoring iron has added weight at the toe, causing the head to resist rotation and thus provide the absolute best in face control, resulting in the ability to confidently aim and release the club.
The scoring clubs are constructed and weighted to offer tight, controlled trajectory, intended to deny the wind its influence, fly specific distances, and stop in an instant.
Ultimately, the Sub 70 TAIII irons offer help where the low handicap player wants it, with better trajectory control and playability in the long to mid irons, while providing the utmost in precision and feel in the short irons. The set was designed in collaboration with the legendary Tommy Armour III, and not only fits with his eye on the course, but matches his classic and unrivaled sense of style.

Delivery: 4 weeks
Specifications
Head Number
3
4
5
6
7
8
9
PW
AW
Loft
20
22
25
28
32
36
40
45
50
Lie
59.5
60
60.5
61
61.5
62
62.5
63
63.5
Offset (mm)
2.4
2.4
2.2
1.9
1.8
1.7
1.5
1.3
1.3
Bounce
1
1
2
3
4.5
5
6
7
7
Head Weight
242
249
256
263
270
277
284
289
296
Standard Length Steel
39
38.5
38
37.5
37
36.5
36
35.75
35.5
Standard Length Graphite
39.5
39
38.5
38
37.5
37
36.5
36.25
36
Material
DT-4 Steel
Top Line Width (6 iron)
4.0 mm
Blade Length (6 iron)
76 mm